Religious Sisters Told to be Focus, Follow the Way of Jesus, just as MSJM Births Ten(10) New Sisters.
Very Rev. Fr Dr. Dan Aigbona, CSsR, has urged the ten newly professed sisters of the Missionary Sisters of Jesus and Mary, MSJM, to be focused on their vocation and look unto Jesus Christ who alone has called and chose them. He gave this admonition at St. Jude Catholic Church GRA, Effurun, the venue for the first profession of religious vows for the ten(10) sisters on Tuesday, August 22, 2017.
While delivering his homily, Very Rev. Fr Dr. Dan Aigbona, CSsR charged the sisters not to be scared or troubled in heart as they begin their service to God and His people, but rather be focused and follow the way of the Lord Jesus Christ, noting that through His support and provision, they can do all things. He enjoined them to love God and His people as they may sometimes love God but hate His creatures. Maintaining that no man is perfect, the Clergy called on the faithful never to condemn or criticize them unnecessarily but to always pray for them and call their attention whenever they are going astray as they are not angels but humans.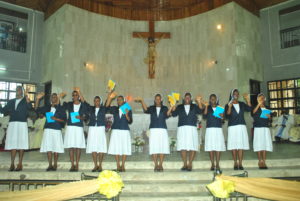 The rite of profession of vows followed the homily with the invitation of each of the sisters to be professed coming before the Bishop of Warri Diocese, Most Rev. John Oke Afareha  to take their vows, those professed included Sr. Mary Jane Frances Atenyo, Sr. Annette Ugbemeh, Sr. Margaret Mary Edafe, Sr. Elizabeth Ohenhen, Sr. Catherine Aigbokhan, Sr. Carmella Kapue, Sr. Bakhita Owarita, Sr. Philippa Oleh, Sr. Geraldine Adenomoh and Sr. Clara Atebefia.