Canonical Erection of Bomadi Diocese and Installation of Most Rev. Hyacinth Egbebo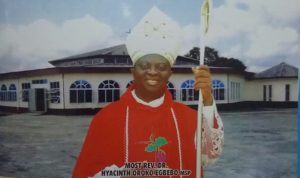 The Apostolic Vicariate of Bomadi became a Diocese on Friday 15th of December 2017 as it was canonically erected and the first bishop installed at our Lady of the Waters Cathedral in Bomadi. The erection was presided over by the Apostolic nuncio to Nigeria, his excellency Archbishop Antonio Filipazzi with the clergy, religious and laity of Bomadi present. At the Mass of the erection and installation, the president of the Catholic Bishop's Conference of Nigeria and archbishop of Jos, Most Rev. Ignatius Kaigama in the homily congratulated the people of God in Bomadi and Bishop Egbebo most especially for the success they have recorded and urged them never to relent in their mission to spread the gospel in this era of the new evangelization. He noted that our diversity is a blessing and fraternity is our way as catholics because the "waters of Baptism is thicker than the blood of tribe and culture." He called the faithful to commit themselves to good daily conduct and not to the pursuit of miracles and prosperity preachers. He appealed for the release of the six religious Sister's kidnapped in Benin about four weeks ago and asked the faithful to pray earnestly for their safety and release. Finally he urged the faithful of Bomadi to collaborate more with their bishop and support him in every way.
The erection of the new diocese and installation of the Bishop marks a new phase in the life of the church in Bomadi and with this feat, they are sure to aspire to greater heights in the spread of the gospel and greater commitment to Christian life.